The Northern Flowerhouse Charter
This movement is to spread wildflowers across the North.
By signing you are opening the door of the Flowerhouse to people and nature.
We will:
Create curiosity
Deal out and deal in beauty
Encourage social gatherings locally and nationally
Roll out the best of science and art in unlikely & likely places
Be an engine for change, turning heads and hearts
Cherish your choice of place, dream its future
Treat Land as a painter would a canvas
Paint with bold brush strokes
Seek environmental, social justice and peace at all times
Transform dull spaces with with a green which should be many colours
Invite outsiders in
Breathe life into edgelands
Dance while joining this ecological revolution
Reward hard work and share skills and tools
Bet on the tortoise beating the hare!
Celebrate diversity as life in all its richness
Treasure playful ways of working
Share food and music at every gathering
Observe the butterflies, insects, birds and incremental changes
Sing about what we have seen
Imagine and re-imagine amazing eventualities
Cherish the health and wellbeing of future generations
Have faith in the weather
Hold our nerve
Learn from our mistakes and be prepared to be educated by accident
Be promiscuous in our sowing behaviour
Chat with curious people
Be bold with our passion and commitment to reversing biodiversity loss
Build and value collaborations and networks
Be fools – laying the foundations for the Northern Flowerhouse on 1st April
The Charter was generously produced by the fabulous Singh Twins.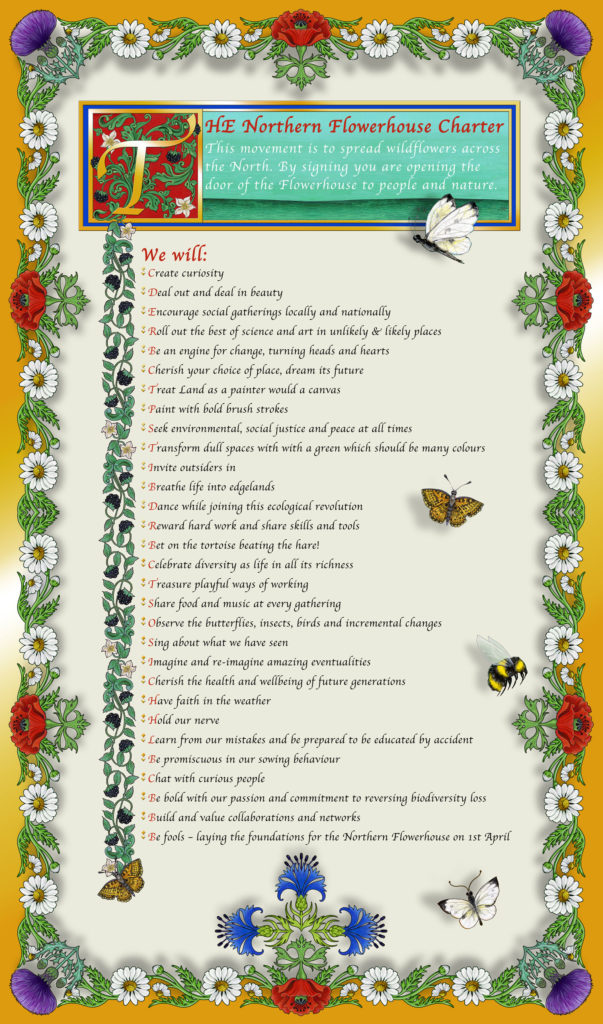 Sowing artwork generously produced by Jamie Reid for Hull sowing.